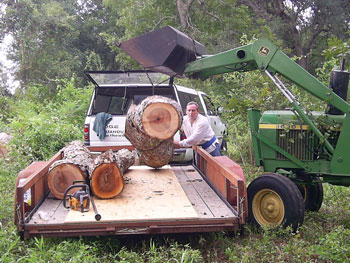 Jimmie harvesting pecan wood to make mantels.
What kind of materials are your cabinets made from?
All cabinets are constructed from furniture-grade plywood (not MDF or particle board) for the main body of the cabinet and solid wood for the cabinet fronts and doors.
Why plywood for the cabinet body instead of solid wood?
Plywood is a very stable material that resists shrinkage and warping and is more cost effective for the customer.
How does the plywood match the color of the solid wood doors and cabinet fronts?
The match is made by using "wood" veneer plywood that matches the species of solid wood used.
What kind of slide are the drawers mounted on?
All drawers will slide out on all steel with ball bearing roller slides. This slide will let the entire drawer slide all the way out (full extension slide) with a weight rating of up to 75 pounds. Heavier slides are available.
Will my cabinets be built in a shop or on location in my home?
Both. The main body of the cabinets will be built in my shop, and other parts that need special fitting will be built at your home so that proper fit can be made.
How can I get an estimate on cabinets for furniture and do you charge for estimates?
You can get a free estimate by mailing, emailing, or faxing a drawing with general dimensions to my office. If you need me to come to your home to discuss the possibilities available for your woodworking needs, a fee, if any (depending on your location), would be determined at that time and would also be refunded if you decide to have me go ahead with the project.